Hair Dryer (PH-1960)
Hair can be kept healthy as the far infrared rays help improve blood circulation
Easy - to manage product as the hair flowing - in prevention filters are mointed.
Enhanced generation of anIons will help inhibit static electricity.
Hair will lock healthier as the moisture of hair can be kept.
A powerful motor and a slim nozzle are mounted provides a excellent setting effect
Features
Filters for preventing hair from flowing in : detachable filters are used to prevent hair or imputities from flowing in while the dryer is used.
The outlet mesh is coated with high- quality far infrared ceramic to radiate far infrared rays.
Four-step slide switch (stop/cool/mild/strong)
Helpful in making your hair look healthier as the special nanomaterials that are developed by Hanil Patech are added.
Can style your hair conveniently, thanks to the cool shot button that can be used temporarily in themiddle of using hot air.
Users will feel less burden at their wrists as its center of gravity is designed based on ergonomics.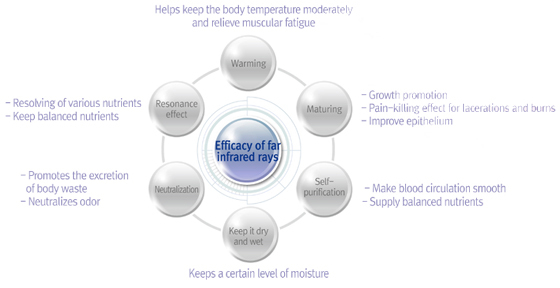 Specification
| | |
| --- | --- |
| Rated | 220V / 1300W / 60Hz |
| Motor | DC |
| Lifetime of motor | 800-1000 H |
| Weight | 371g |
| Wind Speed | 13.5 m/s |
| Temperature | 112°C |
| Cord length | 3m |
| Standards | 280 x 210 mm |
Far infrared lamp
Far infrared rays are the infrared rays with long wavelength. They will reach inside the capillaries and hair in the scalp. first of all, not the hair and scalp themselves. They will improve blood circulation, help remove body waste, and supply nutrients smoothly, Accordingly, they will help take care of scalp and prevent loss of hair.