Hair Dryer (SP-2200S)
Trader

South Korea
Product Detail
Information
Hair Dryer (SP-2000L)
Features
The weight is 420g. It is lighter in weight compared with other that use the motors of same grade.
Seven-step adjustable switch
Highly resistant to everday shocks, thanks to the antishock design.
A holding type cool shot button makes it possible to use cool air instantly.
High-technology fan
Its lifetime is increased by about 200 hours compared with other products with lightweight motors.
Convenient for styling short or thick hair as powerful and weighty wind will be blown.
As a large size DC motor is used, the product weights more by about 70g. However, the noise and vibration are reduced by about 5% compared with products with light motors.
Advantageous for styling short or thick hair as the air is blown not just with high speed but with some weight and increased pressure
The lifetime of the motor is increased by about 25% as it takes in wind powerfully at low speed, not at high speed.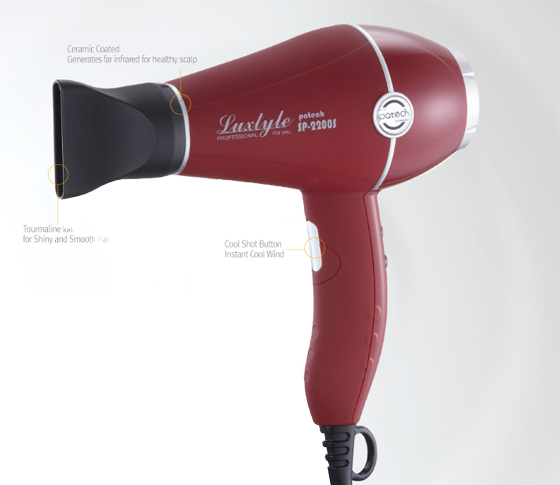 Specification
| | |
| --- | --- |
| Rated | 220V / 1800W / 60Hz |
| Motor | Large-size DC |
| Lifetime of motor | 1000-1100 H |
| Weight | 410g |
| Wind Speed | 19.9 m/s |
| Temperature | 120°C |
| Cord length | 3m |
| Standards | 288 x 210 mm |